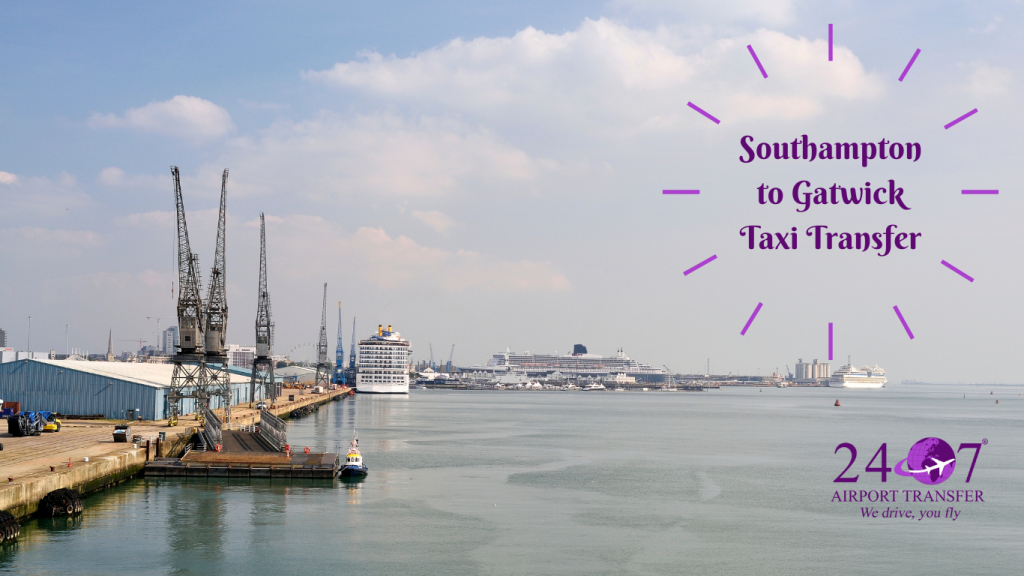 For as low as £180, you can book a Southampton to Gatwick taxi. At 247 Gatwick Airport Transfer, you can enjoy stress-free airport transfers between Gatwick Airport and Southampton at a cost that's up to 20% lower than most of our competitors. Our exceptional service has earned a 98% satisfaction rate from over 1800 5-star reviews, which attests to our reliability and affordability.
Moreover, we go beyond just providing transfers; we aim to offer a superior experience for each of our customers. Looking for a hassle-free transportation option from Gatwick Airport to/from Southampton? Your search ends with 247 Gatwick Airport Transfer!
The Port of Southampton: A Gateway to Adventure and Excitement
The port of Southampton is not just a bustling hub of maritime activity, but a gateway to adventure and excitement. Imagine setting foot on a ship and feeling the thrill of anticipation as you prepare to embark on a journey to far-flung destinations, or return home after an unforgettable voyage. The air is electric with the hum of engines, the sounds of the sea, and the voices of travellers from all over the world.
But the port of Southampton is more than just a place of departure and arrival. It's a cultural hub that celebrates the rich history and diversity of the area, with attractions such as the SeaCity Museum and the Tudor House and Garden. You can explore the city's past, marvel at its architecture, and immerse yourself in its vibrant cultural scene.
Transport Options between Southampton and Gatwick: Private Hire vs Public Transport
Even though the choice of transport is limited between Gatwick and Southampton, you have at your disposal both private hire and public transport. One option is to use a private hire car or taxi service, which can provide a more convenient and direct route to your destination. Another option is to use public transport, such as buses or trains, which may take longer but can be more cost-effective. Ultimately, the choice will depend on factors such as your budget, travel time, and personal preferences.
How to Book a Southampton to Gatwick Taxi Transfer
Booking a Southampton to Gatwick taxi transfer is easy and convenient. You can book online through a reputable taxi company like 247 Gatwick Airport Transfer. All you need to do is provide your travel details, such as your pick-up location, date and time, and the number of passengers.
Moreover, you can choose the type of vehicle that suits your needs and preferences. For example, if you're travelling with a large group of friends or family, you can opt for an 8-seater minibus, which can accommodate up to 8 passengers with luggage.
Included with any Southampton to Gatwick Taxi:
Competitive pricing starting from only ₤180
Meet & Greet service for a stress-free journey
Waiting & Parking service for your convenience
Flight tracking is included ensuring we're always on time
Professional drivers who are courteous and knowledgeable
Clean and well-maintained cars for your comfort
Quick and easy booking process, with payment by card (online)
Vehicles available for up to 49 passengers
Discover your taxi transfer price from Southampton to Gatwick Airport in just a few clicks by checking with us now.
Interested in Transfers from Gatwick to Other Cruise Ports? Check below:
– Click here from Gatwick to Southampton Port Shuttles
– Best prices on Gatwick to Portsmouth Harbour Shuttles
– Professional Services for Gatwick to Dover Port Shuttles
– Affordable transfers from Gatwick to Harwich Port Shuttles