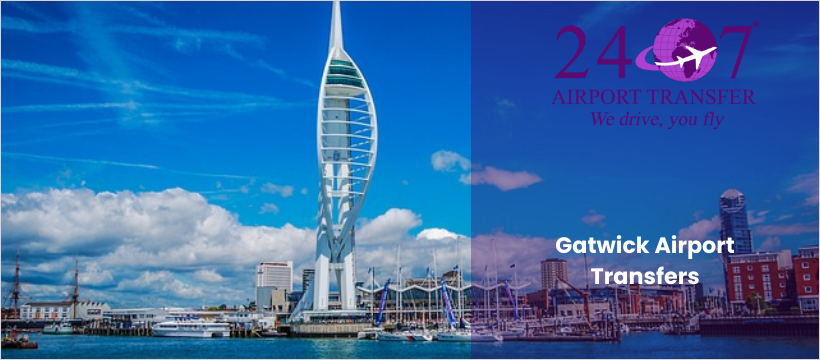 For as low as £150, you can book a Portsmouth to Gatwick airport taxi. Our prices are up to 20% cheaper than those of most of our competitors. With a 98% satisfaction rate based on over 1800 5-star reviews, you can trust that our service is reliable and affordable. Plus, we offer more than just a transfer – we strive to provide a quality experience for all of our customers.
Looking for a stress-free airport transfer between Gatwick Airport and Portsmouth? Look no further than 247 Gatwick Airport Transfer! Our reliable and affordable taxi services start at just £150, making us the go-to choice for all your transportation needs.
Our team of experienced professionals specialize in airport transfers and knows exactly how to make your journey as smooth and comfortable as possible. Whether you're heading to the university campus or embarking on a cruise holiday from the major port, we've got you covered with our range of services, including economy, executive, VIP, and larger van options for groups of up to 8 passengers.
We pride ourselves on our attention to detail and dedication to customer satisfaction, which is why all our airport pickups come with flight tracking, meet & greet, and 30 minutes of inclusive parking and waiting time. Our goal is to be the missing link between you and your destination, providing a reliable and comfortable journey every time.
Don't settle for a subpar airport transfer experience – choose 247 Gatwick Airport Transfer for dependable service at an unbeatable price. Book your Portsmouth to Gatwick airport taxi today and experience more than just a transfer!
Included with any Portsmouth to Gatwick airport taxi
• Competitive pricing for Portsmouth to Gatwick airport taxi starting from only ₤150;
• Meet & Greet service to ensure you have a stress-free journey/Waiting & Parking service for your convenience;
• Flight Tracking included so we're always on time, every time;
• Professional driver who's always courteous and knowledgeable;
• Clean and well-maintained car to ensure your comfort;
• Book within minutes and pay with your card (online);
• Vehicles for up to 8 passengers and minibuses available.
Your Taxi from Portsmouth to Gatwick Airport:
Arrange your transportation between Portsmouth and Gatwick Airport effortlessly by booking a taxi transfer today. Our reliable taxi service provides professional drivers and immaculately clean vehicles with a meet-and-greet service, flight tracking, and a 30-minute inclusive waiting period for all collections from Gatwick Airport. Our fixed-price service from Southampton to Gatwick taxi also comes with competitive rates. Starting from just £180.00*, you can enjoy a comfortable and stylish journey without compromising on quality. Discover your taxi transfer price from Portsmouth to Gatwick Airport in just a few clicks by checking with us now.
Taxi transfers Gatwick Airport to Portsmouth, Taxi Portsmouth to Gatwick Airport, Portsmouth Taxis to Gatwick Airport, Gatwick Airport Taxi to Portsmouth, Taxi from Gatwick to Portsmouth, Airport Taxi Gatwick to Portsmouth, Taxi Portsmouth to Gatwick Airport, Taxi Portsmouth Luton, Taxi Gatwick Portsmouth, Taxi Gatwick Airport Portsmouth, Taxi between Gatwick and Portsmouth, Airport transfer Gatwick to Portsmouth, Airport transfer Portsmouth to Luton, Taxi fare Gatwick Portsmouth, Taxi transfer Gatwick Portsmouth, Taxi transfer Portsmouth Luton, Taxi price Gatwick Airport Portsmouth, Price for Taxi Portsmouth to Luton, Taxi service Gatwick Portsmouth, Taxi service Portsmouth Gatwick Airport