Shuttle from Gatwick to Southampton Port
Southampton Port, officially known by Port of Southampton, is one of the most important cargo and passenger ports in the United Kingdom. It is sheltered among unique double tides and it is located very close to rail links and the motorway network. Therefore, this port is extremely accessible. Southampton Port represents one of the largest container ports and the busiest cruise terminal in the country.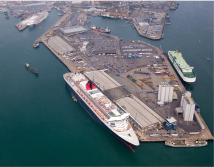 Southampton Port also features marina facilities. They are situated at River Itchen and Hythe Village Marina. Other marinas are Ocean Village Marina, Saxon Wharf, Kemps Quay, Town Quay and Shamrock Quay. There are also local pleasure cruises offered by Blue Funnel Cruises. These harbour cruises include viewing all the ships that are in the port. You could also go to Southampton to take one day cruises to the beautiful Solent area. Not to mention the Party Night trips, a blast for the youngsters in particular. Longer trips are performed by MV Balmoral and PS Waverley, the world's last seagoing paddle-steamer. SS Shieldhall, the largest steamship in Europe and Britain, also operates visiting projects and an excursion programme. Last, but not least, Southampton is known for the first international boat show in the world. It was held in 1969 and now it is Europe's largest water-based event. Its numbers are 1000 boats and 500 exhibitors.
So, there are various reasons for which you should visit the Southampton Port. There are even people that go directly from the airport to the harbour. For example, there are numerous individuals looking for a shuttle from Gatwick to Southampton Port.
There are various methods of getting from one location to another, some being more convenient, while others might be more disadvantageous for you. What you can do is read the rest of the article to find out which is the best Gatwick to Southampton Port Shuttle for you.
Gatwick to Southampton Port by Coach
The National Express buses can make for an affordable Gatwick to Southampton Port shuttle. Not only that they are cheap, but they are also extremely comfortable. However, they are slower in comparison with the train service. The National Express Tickets can be purchased from the ticket desks in the terminals, directly from the driver or online, from their official website. Bear in mind that buying the ticket online is more advantageous, as they offer discounts for those getting the ticket in advance.
With National Express, you cannot carry more than 2 large bags per passenger, which is alright because this is also the maximum amount of luggage allowed by most of the airline companies. The shuttle from Gatwick to Southampton will not take you to the cruise terminals. Therefore, it will stop in a bus station and from there you will have to get a taxi to the cruise terminal your ship departs from. Not quite convenient for those with heavy luggage. Let's see the following transport option.
Gatwick to Southampton Port by Rail
There is always the option to travel by train. You have a direct rail service between Gatwick Airport and Southampton Port. The train station is located in South Terminal, so if you land on North Terminal, you can take a free shuttle train to the other terminal. In just 4 minutes, you will get to South Terminal. The train service will not leave you in the cruise terminal, so you will also be forced to take a cab between the train station and the terminal.
There is also the option to take a train that will leave you at Clapham Junction and from there take another National Rail service to your final destination: Southampton Port. This second journey will last around 1 hour and 50 minutes and the tickets will be 36 GPB.
Gatwick to Southampton Port Taxi Transfer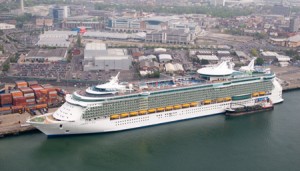 So, we have described the coach and the train services. What's next? A shuttle from Gatwick to Southampton Port can also be operated by a minicab company. These types of companies don't use only small cars, but they can also put at your disposal 8-Seaters and even large coaches.
An important aspect that you should consider is that the minicabs are way cheaper than the famous black cabs, so it's more advantageous to book with them. A Gatwick to Southampton Port shuttle must be booked in advance and sometimes, if you make the reservation online, you can receive a discount. For example, 247 Airport Transfer offers 10% discount for those who are registered on our website.
The shuttle from Gatwick to Southampton Port takes you directly from the terminal you're landing on and will also take you to the cruise terminal, without the need to take another car from the station to the port.
Travel with 247 Airport Transfer and you will pay almost 121 GBP for a Gatwick to Southampton Port shuttle. Such a journey will last approximately 2 hours and 20 minutes.
Interested in Transfers from Gatwick to Other Cruise Ports? Check below:
– Click here from Gatwick to Southampton Port Taxi Transfers
– Best prices on Gatwick to Portsmouth Harbour Taxi Transfers
– Professional Services for Gatwick to Dover Port Taxi Transfers
– Affordable transfers for Gatwick to Harwich Port Taxi Transfers
– Best value for money Gatwick to Tilbury Port Taxi Transfers.