Taxi Transfer from Gatwick to Portsmouth Harbour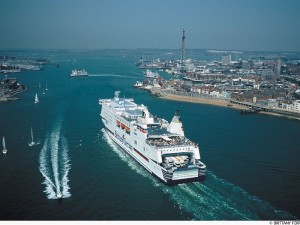 There are various ways of getting a Gatwick to Portsmouth Harbour transfer. You can opt to travel by train, coach or by private hire vehicles. All of these services offer a direct connection between these 2 destinations, so all you have to do is choose the one that best suits your needs and budget. With the train and the coach, you must bear in mind that they don't stop in the cruise terminals, so, from the bus or train station, you will most probably have to get a taxi ride of approximately 10 minutes. The taxi transfer is the only transport method that will take you directly to the cruise terminal your cruise ship departs from.
Gatwick to Portsmouth Harbour Transfer by Coach
You will have two major bus routes departing from Gatwick and going to Portsmouth Port. The first one changes at Heathrow Airport and it will take longer and the second one is a direct service between the airport and the port going along the south coast. There are various services throughout the day. The tickets cost between £7.30 and £15.20 and you can pay less if you book online. The fastest ride will be 1 hour and 36 minutes, but usually a Gatwick to Portsmouth Harbour transfer takes around 1 hour and 50 minutes.
If you choose to buy a return ticket, you will pay even less. This makes the coach tickets much cheaper than the train tickets. However, the journey with the National Express buses will last longer than it would normally last with the train service.
Gatwick to Portsmouth Harbour Transfer by Train
Since we have been talking about the rail service, let's see what it has to offer. There is a train station only in the Gatwick South Terminal, but there will be a shuttle transferring you from North to South Terminal in case you land on the former. This shuttle train departs every 5 minutes, so it is quite frequent. A journey with the shuttle train will last around 4 minutes.
From Gatwick Airport South Terminal, you can simply take the National Rail Service that will take you directly to Portsmouth Port. The only disadvantage is that this service runs hourly, so if you don't catch the train in time, you will be forced to wait almost an hour for the other. This can be quite exasperating and frustrating. However, if you do choose this option, you should know that your journey will last around one hour and 25 minutes. The price for this transfer will be approximately £33. You can purchase tickets online or from the ticket desks inside the terminal. Unlike the coach tickets, if you buy a train ticket in advance, you won't be paying less if the journey takes only one hour or so. This service is available only for longer train rides.
Gatwick to Portsmouth Harbour Taxi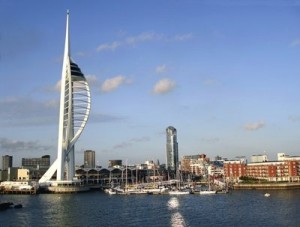 Ultimately, if you don't want to travel by coach or by train, all you have to do is pick up the phone and call a minicab company. They will offer a private Gatwick to Portsmouth Harbour Taxi Transfer, which can sometimes be the best option. Not only that you will travel more comfortable, but you will also benefit from courteous and helpful drivers who will help you with your luggage and answer all your questions regarding your transfer.
With 247 Airport Transfer, a Gatwick to Portsmouth Harbour Taxi will cost around £106 for the smallest car, a saloon one. For an 8-Seater that can accommodate up to 8 individuals, 8 pieces of medium luggage and 8 pieces of hand luggage, you will be paying £136. The journey will last approximately 2 hours.
The minicabs must be booked in advance by phone, online, by e-mail or by live chat. Once you have booked the taxi, you will receive an e-mail confirmation so that you can be sure the booking has been made. Also, you need to review the conformation so as to see if there are any errors and correct them. The driver will be at the airport at the stated date and time and he will be waiting for you with a board with your name on it. He will be respectful and help you with your luggage and be a great company for the road.
A Gatwick to Portsmouth Port Harbour will also offer you luxury if necessary, by putting at your disposal VIP and executive cars. So why not travel in style if you do have this option. You can contact 247 Airport Transfer anytime you want by sending an email at [email protected] or calling 020 888 600 26.
Interested in Transfers from Gatwick to Other Cruise Ports? Check below:
– Click here from Gatwick to Southampton Port Shuttles
– Best prices on Gatwick to Portsmouth Harbour Shuttles
– Professional Services for Gatwick to Dover Port Shuttles
– Affordable transfers for Gatwick to Harwich Port Shuttles
– Best value for money Gatwick to Tilbury Port Shuttles.