Taxi Transfer from Gatwick to Southampton Port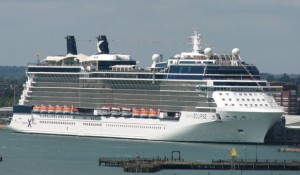 Southampton Port is located 90 miles away from London Gatwick Airport. If you're in for a cruise from this port and need a Gatwick to Southampton Transfer Port, then you have come to the right place. In this article you are going to find all the means of transportation that you can take to get from one destination to another. Even though the choice of transport is limited between Gatwick and Southampton, you have at your disposal both private hire and public transport.
If you're looking for a cheap option, then you could use the National Express coaches. In case you're searching for a faster method, then we recommend you the train service that runs from Monday to Sunday. If you want both affordable and fast transfers, then you should look for a Gatwick to Southampton Port Taxi offered by a minicab company.
Gatwick to Southampton Port Transfer by Coach
If you're travelling on a budget, then there is no better option than the National Express buses. When compared to the train services, the coaches are much cheaper, yet much slower. You can purchase tickets for the National Express service directly from the website and in this case, you will pay less.
An important aspect is that you are allowed to take maximum 2 cases per person. Also, you should keep in mind that these coaches don't stop in the cruise terminals, therefore, from the bus station you will need to take a taxi to the desired cruise terminal. This is not really convenient, especially when you carry heavy luggage with you.
Gatwick to Southampton Port Transfer by Train
If you prefer to travel by train, then you should know that there are direct trains between Gatwick and Southampton. The train can be taken from the South Terminal, but if you land on North Terminal, you can simply take a shuttle from North to South Terminal. The train will leave you nearby the Southampton Coach Station, thus you will also be forced to take a taxi till one of the cruise terminals.
A free train transfer between Gatwick North Terminal and Gatwick South Terminal will take 4 minutes and the train service runs every 5 minutes. From the train station at South Terminal, you can jump into a National Rail train and go to Clapham Junction. These trains run every 15 minutes and the journey will last around 25 minutes. From Clapham Junction Station, you can take another National Rail service to Southampton Central. These trains travel hourly and this ride will take 1 hour and 15 minutes. As mentioned before, from Southampton Central Station, you must take a taxi transfer. The total Gatwick to Southampton Port transfer will last almost one hour and 50 minutes and you will pay around £36.
Gatwick to Southampton Port Taxi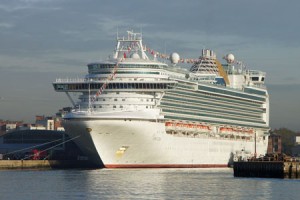 Last, but not least, you can use one of the most popular and comfortable options: the Gatwick to Southampton Port Taxi. At this point, you can choose between 2 methods: the black cabs and the minicabs. Keep in mind that there are huge differences between these two.
To begin with, the black cabs are way more expensive than the private hire vehicles. Sometimes, the minicabs can even be 50% cheaper than the symbolic black cabs. Moreover, a black cab cannot accommodate more than 5 passengers with their luggage, while the minicabs can take large groups of 8 or more people. What's even more important is that the minicabs can be booked in advance so that you can be sure that you will have a taxi for the date and time you require. Furthermore, if you book the taxi in advance, you will also know the price prior to the journey and you can decide if you want to continue with the booking or not. The black cabs can only be hailed on the street and this can be quite hassling when dealing with a lot of luggage.
A Gatwick to Southampton Port Taxi will take you from the North or South Terminal, depending on where you're landing and will take you directly to the desired cruise terminal at Southampton Port. Thus, you won't have to take an extra taxi from the train or bus station as it was the case with the National Express coaches and National Rail trains.
A Gatwick to Southampton Port Taxi with 247 Airport Transfer will cost you £121 for a saloon car and £151 for an 8-Seater. The total time of the journey will be almost 2 hours and 20 minutes.
Interested in Transfers from Gatwick to Other Cruise Ports? Check below:
– Click here from Gatwick to Southampton Port Shuttles
– Best prices on Gatwick to Portsmouth Harbour Shuttles
– Professional Services for Gatwick to Dover Port Shuttles
– Affordable transfers for Gatwick to Harwich Port Shuttles
– Best value for money Gatwick to Tilbury Port Shuttles.