If you haven't visited London so far, we can tell you that the British metropolis is definitely worth being discovered during summertime. Unfortunately, London has a reputation of being quite an expensive city and a mini-vacation here could easily leave you without your budget.
To help you save some money, we have some ideas regarding a few activities that you can do for free in London.
1. Visit the museums that require no entry fee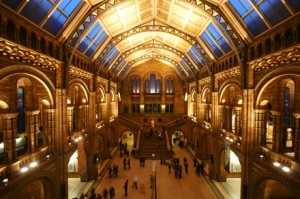 Almost all of London's major museums require no entry fee, though for some exhibitions within their venue, a fee is required in order for you to be able to visit those exhibits. Undoubtedly, the most beautiful and interesting museum is Museum of London, where you can learn new things about the history of England from Roman period to the present days. Another interesting museum you could visit is called the Geffrye Museum – which is specialized in the history of the English domestic interior and helps you familiarize yourself with how people are really living in London
Other places you can visit free of charge:
– Natural History Museum
– British Museum
– National Gallery
– Tate Modern and Tate Britain
– Science Museum
– Saatchi Gallery
2. Go to Westminster Abbey
The famous Westminster Abbey (where the coronation of England's royal heads, and also, the royal weddings and funerals take place) is one of the most beautiful Gothic churches in the world. If you want to visit Westminster Abbey you will have to pay about 16 pounds.
But what most tourists do not know is that you are allowed entering the venue, free of charge, during the religious services, when tourists cannot take pictures and can no longer walk through the church. Go to the religious services from Monday, Tuesday, Thursday or Friday and you will not regret it.
3. Visit London's famous markets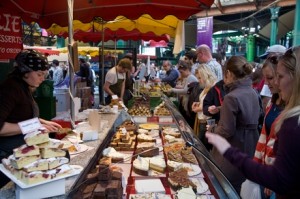 A visit to a London market can certainly be quite entertaining. We recommend you to go to Borough Market, a wholesale and retail food market located in Central London. Since the 13th century Borough Market is very frequented by food lovers.  It's a real attraction situated in the South of Thames and it is open from Thursday to Saturday.
You can also visit Portobello Road Market in Notting Hill, Camden Market and Columbia Road Flower Market, where you will find the most beautiful flowers in London and you can make great pictures.
4. Visit the gardens and parks of London
The gardens and parks of London are famous all over the world and millions of tourists come every year to photograph them. No wonder it is said that those who created these magical landscapes are some amazing artists.
Among the most beautiful parks and gardens of London, we recommend you to visit:
Queen Mary's Rose Gardens in Regent's Park – an absolutely lovely place, full of blooming roses St. James's Park – that offers the best view towards Buckingham Palace
Kensington Gardens and Hyde Park, where you will find the famous Diana Memorial Playground and the Peter Pan Statue.
5. Changing the Guard at Buckingham Palace
No trip to London is complete without seeing this military tradition. Changing the Guard at Buckingham Palace takes place inside the gates of Buckingham Palace, every day from 11.30 AM. Go there early in the morning, and watch this 'show'. It's really worth it!
Other Important Airport Transfer Information: 
* Get Fares for Gatwick Taxi Transfers Here: London Gatwick Taxi
* Find Out More Information About Gatwick Transfers and Gatwick Shuttles Here: London Gatwick Shuttle
* Find Out More Information About Heathrow Transfers and Heathrow Shuttles Here: Heathrow Transfers and Shuttles
* Find Out More Information About Stansted Transfers and Stansted Shuttles Here: Stansted Transfers and Shuttles
* Find Out More Information About Luton Transfers and Luton Shuttles Here: Luton Transfers and Shuttles
* Find Out More Information About City Airport Transfers and City Airport Shuttles Here: City Airport Transfers and Shuttles.