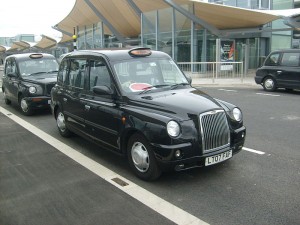 London's Taxis and Minicabs
London is widely known for its black cabs, which are a symbol for the British capital city. They're also known as the Hackney carriages and they can be taken from the taxi ranks or hailed in the street. You don't need pre-booking to take a black cab, but you must be extremely careful not to get a hackney carriage that has no authorisation. An interesting fact about the traditional black cabs is that they're not all black. In fact, many of them have different advertising designs and colours, so you can choose any model you want. All the taxi drivers in London must be trained and licensed. Moreover, London is one of the few cities in the world that doesn't have a limited number of cab drivers. The black cabs can accommodate up to 5 persons and they are accessible for the disabled people.
You can immediately spot a black cab by observing the light with the word "Taxi "displayed on the front. The black cabs can be hailed in the street, but they can also be found at designated ranks or marshalled rank. Furthermore, if you want to be sure that the taxi will wait for you at a specific location you can book it in advance. Since 2011, there are also numerous digital hailing applications used for smartphones. The most famous are Hailo, GetTaxi and Uber. Through these applications, you can also track the taxicabs. Every cab features a taxi meter that measures the taxi fares. The journey will be paid after you reach the destination.
Not many people know that London also features private minicabs that can be booked in advance. Most of the times, the private taxis are cheaper than the black cabs. Moreover, they can carry more than 5 people and can handle a larger amount of luggage. One piece of advice is to never take a minicab without pre – booking it. If you don't book it, there will be no record of your driver or your journey and you could be in danger.
There is wide array of minicab companies in London, so before booking with any of them, you should first get 2 or 3 quotes to see which one is the most affordable. A booked minicab will guarantee you a journey with an insured and licensed vehicle and with an insured and licensed driver. In case you'll have any problems with the vehicle, the driver or the journey, there will be kept a record and the driver can be immediately traced.
You can book a minicab by phone, by email or online. They don't use a taxi meter. Therefore, you have to ask for the price before making the booking. You can benefit from different types of discounts depending on the company you're using. For example, 247 Airport Transfer will offer you 10% discount if you make an account with the company. You will receive the discount every time you make a journey with us. The 247 Gatwick Airport Transfers start from 30 GBP. The prices differ, depending on your destination inside or outside London.
Other Important Airport Transfer Information: 
* Get Fares for Gatwick Taxi Transfers Here: London Gatwick Taxi
* Find Out More Information About Gatwick Transfers and Gatwick Shuttles Here: London Gatwick Shuttle
* Find Out More Information About Heathrow Transfers and Heathrow Shuttles Here: Heathrow Transfers and Shuttles
* Find Out More Information About Stansted Transfers and Stansted Shuttles Here: Stansted Transfers and Shuttles
* Find Out More Information About Luton Transfers and Luton Shuttles Here: Luton Transfers and Shuttles
* Find Out More Information About City Airport Transfers and City Airport Shuttles Here: City Airport Transfers and Shuttles.