Gatwick Shuttles
Dear Customer,
Today we will be talking about our Gatwick Shuttle service and about shuttles in general. We feel that it is important to know exactly what we are offering when we refer to Gatwick Shuttles in our promotions and posts as terms may have different definitions from country to country. For example, the "shuttle" term in general refers to a bus or coach used to transport people to or from the airport (see Wikipedia explanation: http://en.wikipedia.org/wiki/Airport_bus ) .  On the other hand, the UK minicab companies have adopted this term and use it when they refer to an MPV car (5-6 seater) or an 8 seater car. Therefore, when you book a Gatwick Shuttle with a London minicab company, make sure that you point out the number of passengers and luggage as instead of a bus you may get picked up by a cute VW Sharan.
How  to book a London Gatwick Shuttle with us
Booking a transfer to or from Gatwick Airport with us is really easy. We offer you three or four methods to get in touch with our operators:
a) Online booking form
As you enter our website you will see the online booking form where you can receive an immediate quote. Presuming that you will like our price, there will be only to more steps to complete  in order to book a Gatwick Shuttle with us. In general, it shouldn't take you more than 3-4 minutes to book the transfer and you will receive an instant confirmation on your e-mail. It's important that you complete all the fields as we will need your information in order to offer you a hassle free pick-up from Gatwick Airport.

b) Simply call us
The most simple way to book a shuttle to or from Gatwick is to just give us a call. Our operators are live 24/7 and make sure that at anytime your call will be answered by a friendly voice, always ready to help you with your requests and enquiries. We would be very happy to have you as our customer.
c) An e-mail is as good as any other method
Because sometimes the line may be bad, some of our customers prefer sending an e-mail to book their Gatwick Shuttle with us. This method is as simple as any of the above and all you have to do is send us an e-mail. An operator will answer you in the shortest time possible and ask you for some information after which he or she will book your transfer to or from Gatwick Airport right away and also confirm your request.
d) Use the live chat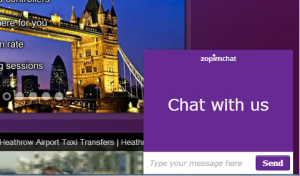 If either you are looking to book or just looking to ask us a question, you can always press the Chat button on the bottom right side of the screen. You will be instantly responded by a member of our staff which will make sure to book your London Gatwick Shuttle with us or answer any answers regarding your transfer.
Any method you will use is fine by us and you can be sure that your booking is processed by experienced staff and that you are in safe hands. Also, you don't have to worry about anything as we will take care of every little detail of your journey at the moment you will book a Gatwick Shuttle with us. Either if your pick-up is from Gatwick Airport or from your address, you can make sure that the driver will be waiting at the pick-up point on time, help you with your luggage and ensure that your journey will be a fantastic experience.
Reserve a London Gatwick Shuttle with us now and experience a wonderful trip and fantastic services!.