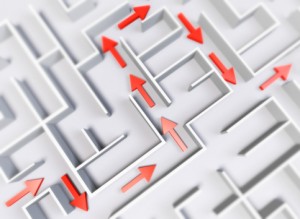 We've learned from our experience that even though millions of people use the service of minicab companies daily and taxis are one of the most preferred transport options in the world, customers may still have tens of questions in their mind regarding their journey. During our three years of experience we've gathered all of these questions and today we will answer them all, offering you the Complete Customer Guide to Airport Transfer Services. This article will not solely refer to Gatwick transfers but will focus on airport transfers in general.
As we cannot answer these questions for all minicab companies, each of them offering different services in different ways, we have created this guide in report to our own company and airport transfers. In order to make it easy to read, we have split the taxi guide in two parts, one referring to enquiries related to the transfer while the other will answer questions regarding to payments.
Enquiries before and during the taxi transfer – Part 1 
1.       How long will the journey last? 
Although the actual journey time really depends on the time of the pick-up and traffic conditions, each time you book we are offering you an estimate journey duration which you will be able to see in the confirmation e-mail you will receive after booking the taxi with us.
Considering that our booking system is connected with Google Maps you can also check the time of the journey by yourself, by going to maps.google.co.uk and inputting the details of your transfer, such as the pick-up point, drop-off point and the stops on the way in case there are any.
We suggest that, in order to receive an accurate time estimation, on top of the journey duration provided by Google Maps, you take traffic conditions into consideration by adding the following ratios:
–          between 6:30 AM and 9:30 AM – the journey will take 50% longer
–          between 9:30 AM and 4:00 PM – the journey will take 30% longer
–          between 4:00 PM and 8:00 PM – the journey will take 50% longer
–          after 8:00 PM – normal Google Maps duration
2.       Do you offer meet & greet Services? Where will the driver await for me? 
Yes, we do offer meet & greet services and the best news is that we provide them to our customers for free! 
–          For airport pick-ups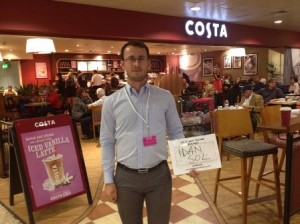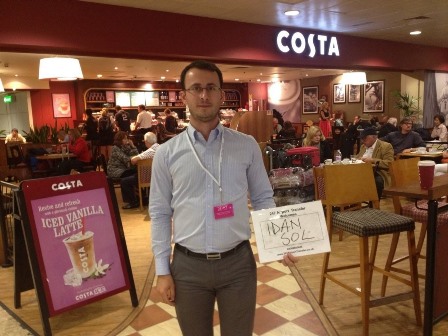 Considering that we are an airport transfer company, most of the pick-ups are done from inside the airport. Many taxi companies in London use the same pick-up point for each airport, this being either the Information Desk or Costa Coffee. In order to be make the meet & greet service more convenient to you, we have decided to pick you up from the closest possible spots to the arrivals. Therefore, bellow is a list with all the meeting points in the London airports:
–          For address pick-ups 
If your journey with us starts from your home, hotel or any other normal address you will find our drivers in front of it, patiently waiting for you to get prepared for the taxi transfer. If you have too much luggage to carry have no worries as our drivers will jump right away to help you.
–          For Pick-ups from train stations and seaports
In case you have requested one of our taxis to take you from a tube, train station or seaport, you will find the driver waiting for you at the Information Desk.
3.       How will I recognize the driver & will the driver hold a board with my name on it? 
No matter if you arrive on Heathrow, Gatwick, Stansted, Luton or London City Airport, you can be certain that you will find your taxi driver close to the Arrivals, holding a board or tablet with your name on it, dressed in a suit, smiling and being happy to help you with your luggage and with any other issues.
                        – Domestic Arrivals: Meeting Point in T1
                        – International Arrivals: Costa Coffee
Heathrow T3:
Heathrow T4:
Heathrow T5:

Domestic Arrivals: Giraffe Juice
International Arrivals: Costa Coffee

Gatwick North:
Gatwick South:

Domestic Arrivals: Costa Coffee
International Arrivals: Travelex Bureau de Change

Stansted:

Domestic Arrivals: Cafe Modena
International Arrivals: Costa Coffee

Luton:
City Airport:
4.       Will the taxi driver call prior to the pick-up? 
Because not all customers want to be called before the pick-up we have left this feature optional. In case you would like to be called you can either ask the operator to inform the driver to call you or write this request in the Observations box in case you are doing the booking online. If you request this option, make sure that you will be called by the driver when he arrives in front of the pick-up point.
5.       Will I get the driver's contacts?
Our smart taxi dispatch system has been created in such a way that it would make your booking process stress free and will offer continuous communication with the customer. Therefore, at the moment the driver is allocated, you will be automatically informed about the driver's name and the taxi he owns. Although you will not receive the drivers phone number you have nothing to worry about as we offer 24/7 support, 365  days per year.
 6.       Will you be sending me a confirmation e-mail ? 
Each time you book a taxi with us, our system will send you a confirmation e-mail including all the details of your journey. Although our operators are really experienced and rarely do mistakes we still advise you that you check the details in the confirmation e-mail to be sure that everything was inputted correctly.
7.       How much time in advance can I book? 
Sometimes we may pick you up even faster than a black cab, but other times we may be fully booked and not able to honour your request for a few hours. Generally speaking we should be able to pick you up with no problem if you book your taxi transfer with one hour in advance. Even though we will be really busy we will do anything that stands in our power to offer you the chance to take advantage of our complete minicab service.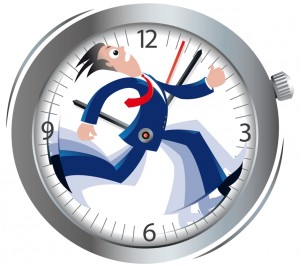 8.       If I have to catch a flight, when should I ask to be picked up? 
As airlines suggest that you should be in the airport 2 hours before the take-off for European flights and 3 hours before for International flights, we suggest you take this time into consideration on top of the actual journey duration. Also, in order to make sure that you will arrive in time to the airport, we advise you to request the pick-up 30-45 minutes earlier than the actual pick-up time should be.
You can always ask our operators what should the best pick-up time be and they will make sure that you will not be late for your flight.
9.       How many minutes after landing should I choose?
This is one of the most frequently asked questions regarding our taxi service and, unfortunately, we do not have an exact response for it. As the interval of minutes after landing you choose depends on the departure country or the number of people in the group, we can only approximate this time stances. Therefore, for International flights we suggest you to choose 45 minutes of waiting time while for European ones you can choose only 30 minutes to go through customs. Considering that for domestic flights you can get through customs really fast, you will not need to select more than 10 minutes of waiting time.
One of the advantages of booking an airport transfer with us is that, even if you select 10 or 100 minutes of waiting time, we will always offer you an extra 30 minutes free. Moreover, we always track the flights so we will know in case there are any delays. The waiting time is calculated starting with the moment the airplane landed so you will have nothing to worry about in case your plane arrives late as the driver will know about it and will be at the airport at the best time to pick you up.
10.   Will the driver release me a receipt? 
The drivers don't usually release receipts, but you can always ask an operator for an invoice and he will be more than happy to send it to you.
11.   Can you provide me with a child seat? 
For the safety of your children we can equip any of our taxis with one or more child seats. All you have to do to receive a child seat for your taxi transfer is request one at the moment you are making the booking. After that you can be sure that the taxi that comes to pick-you up will be equipped with the seat you desire.
12.   Is it mandatory that I use a child seat for my kid? 
The law doesn't oblige you to use a child seat but, it's important that you request one, for the safety of your child.
So, after 12 different answers to 12 different questions we have reached the end of the first part of "The Complete Airport Transfer Guide". In the next article we will be answering enquiries related to payments, discounts and surcharges. We hope that the information provided today will help ease the process of booking a Gatwick transfer or, in general, an airport taxi from Heathrow, Stansted, Luton or City Airport.
Other Important Airport Transfer Information: 
* Get Fares for Gatwick Taxi Transfers Here: London Gatwick Taxi
* Find Out More Information About Gatwick Transfers and Gatwick Shuttles Here: London Gatwick Shuttle
* Find Out More Information About Heathrow Transfers and Heathrow Shuttles Here: Heathrow Transfers and Shuttles
* Find Out More Information About Stansted Transfers and Stansted Shuttles Here: Stansted Transfers and Shuttles
* Find Out More Information About Luton Transfers and Luton Shuttles Here: Luton Transfers and Shuttles
* Find Out More Information About City Airport Transfers and City Airport Shuttles Here: City Airport Transfers and Shuttles.