London Gatwick Taxi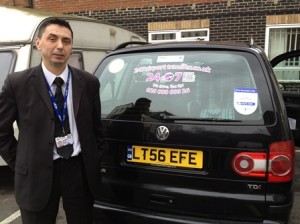 Gatwick Airport is the second largest airport in London. It is also the second busiest in the country. As an international airport, is welcomes more than 30 million passengers per year and there are almost 50 aircraft movements hourly. Other statistics say that the airport features the busiest single-use runway in the world and, in what regards the point-to-point flights, it is the leading airport in Europe.
If your flight lands on this huge airport and you are looking for a Gatwick Taxi to take you to London or any other city in the United Kingdom, you may choose from three options: international taxi companies, local minicab companies or 247 Airport Transfer. Why is 247 Airport Transfer separated from the other three? Read on to find out.
The world taxi companies offer transfer options in numerous countries, including The United Kingdom. They are based in the big cities, such as London and their services are professional and comfortable, featuring deluxe cars. The main disadvantage that comes with these companies is that they have quite high prices. For instance, a London Gatwick Taxi to Central London will cost you around £100, if not more. Another drawback is the fact that these international services cannot take you to any drop-off address you want, because most of them do not cover the entire London area.
The London Gatwick Taxis are also offered by the local minicab companies. These firms have more advantages as compared to the international ones. To begin with, they are a lot cheaper, with prices 50% lower than those offered by the above companies. Moreover, they cover not only the entire London area, but also a lot of areas in the other big cities and ports in the United Kingdom. The only problem with these private hire businesses is that you can never know what to choose. There are numerous companies of this type in London and most of them are not licensed, offering poor services.
One of the local companies that is highly recommended and that features top of the lines services is 247 Airport Transfer. As the name states, it provides 24/7 Gatwick Taxis for your airport transfer and this is only one of its advantages. At the same time, the company has some of the most affordable prices on the market. Our quotes start from £50 for a journey between Gatwick Airport and Central London, which is a lot cheaper than the prices offered by the international companies. Moreover, you must know that our company and our drivers are fully licensed, providing professional transfers, so you don't have to worry that you won't get to your destination on time.
247 Airport Transfer is authorised to cover the entire London and its surroundings, as well as the other cities and ports in the United Kingdom. So, anywhere you want to go, 247 Airport Transfer will take you there. Finally, you must choose this company because it is innovative and always comes with something new. It features tablets in the cars, a smart booking system and driver and flight monitoring systems. All these have been introduced to offer you extraordinary and qualified journeys with London Gatwick Taxis. So, if you come to London and look for a minicab company, you should have no hesitation in choosing 247 Airport Transfer..