If you are fan of cycling and you want to watch a competition or participate in one, then London is the perfect destination for this. Among the most famous and beloved competitions, you can count London Nocturne, Prudential RideLondon and London–Brigton.
London Nocturne – June 11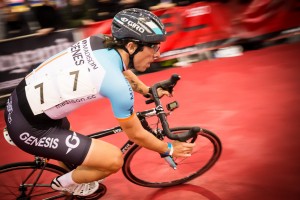 London hosts on June 11 a major cycle race. It's called London Nocturne, a race opened for several categories of bicycles including the English version of the velocipede.
This contest is a circuit on the streets of London during the night. The streets will be illuminated by street lights mostly, but also by some powerful spotlights which will help participants to cope better.
The focus of the competition is on the Penny Farthing bicycle racing which was very popular in the late 19th century in England.
There are numerous racers around the globe waiting to inaugurate the Penny Farthing race, which is considered the star of the event, on which they will have to travel one mile as fast as possible.
Now, over 100 years away, those who want to restore a bit of the past air in the capital from the banks of the Thames have the chance to do two organized competitions: The Brooks Penny Farthing Sprint and The Brooks Ordinary Trophy. The first is a one mile long race, and the second is along a circuit that competitors will pedal 30 minutes + 5 laps.
Besides this race, there will be held other competitions such as: Folding Bike Race where participants are dressed in office outfits and will have to run their folding bikes at 30 m distance, to loosen them and go through five laps or IG Markets Team Challenge – companies in the city are invited to form a team and participate in several samples in this competition.
Also, throughout the festival route that reaches all the capital's zones, illegally parked cars will be lifted. Central London is also subject to restrictions, as more than 50,000 people attend this event each year.
Prudential RideLondon
Prudential RideLondon festival that includes the participation of over 20,000 amateur and professional cyclists, will involve the closure of hundreds of streets in London, an effort that has never been at such a scale since the Olympics. The most important part of the festival is the race Prudential Surrey RideLondon-100 that takes place on a route with a length of 100 miles (160 km).
RideLondon's aim is to remind people that cycling is healthy, protects the surroundings and is very entertaining.
Prudential RideLondon is an event where cyclists will start at the Olympic Park on Saturday, between 6am and 8am – and will follow the route traveled by British cyclist Bradley Wiggins at the last summer Olympics.
London – Brigton – June 30
The competition is held every year to raise money for the British Heart Foundation. Over 27,000 cyclists sit on their bikes to take part at the largest charity cycling race in Europe. Starting in the capital, cyclists begin the route measuring 87 km (54 miles) down to the beautiful city of Brighton.
Each year, the organizers collect about 2.5 million pounds for charity. Many cyclists are dressed in carnival costumes and an amazing atmosphere prevails.
Due to the overwhelming popularity of the cycling race, thousands of registrations to the event must be rejected therefore, anyone who is interested in participating must apply in advance.
Other Important Airport Transfer Information: 
* Get Fares for Gatwick Taxi Transfers Here: London Gatwick Taxi
* Find Out More Information About Gatwick Transfers and Gatwick Shuttles Here: London Gatwick Shuttle
* Find Out More Information About Heathrow Transfers and Heathrow Shuttles Here: Heathrow Transfers and Shuttles
* Find Out More Information About Stansted Transfers and Stansted Shuttles Here: Stansted Transfers and Shuttles
* Find Out More Information About Luton Transfers and Luton Shuttles Here: Luton Transfers and Shuttles
* Find Out More Information About City Airport Transfers and City Airport Shuttles Here: City Airport Transfers and Shuttles.