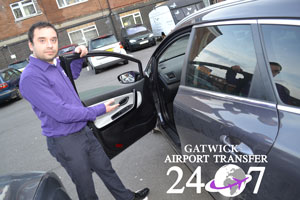 If you are landing in Gatwick, one of London's busiest airports, which has two main terminals that are hosting flights from all over the world you should know that there is a variety of means of transportation that can get you to Central London. You can choose from a rail option, bus, car hire. The airport has designated stations for each source and you will have to find the best route that will get you to your destination. More than often you will have to change stations in order to reach your final destination.
Since Gatwick is at 31 miles' distance from Central London, you will probably be interested in getting a more comfortable option for your travel. Either if you are traveling by night, with family, friends or you are interested in a business transportation means, you can always choose a minicab service company. London has more than 2000 minicab companies registered and as you can probably imagine, not all of them provide quality service. With more than 5 years of experience on the private hire market, 247 Gatwick Airport Transfer is a great option for your transfer. With a 92% customer satisfaction rate, the company has built a base of loyal customers and is growing each year due to its commitment to high quality service and of course, affordable pricing.
If this is your first trip in London we recommend using one of our most frequent routes a Gatwick to St Pancras Station transfer service. Of course, St Pancras is one of the most important stations in London and one of the most beautiful due to its Victorian architecture. The station is host for the Eurostar high-speed trains that lead to Paris, Brussels or Lille. Also, the station has railway connection to England and accommodates trains on Cross-London Thameslink. You can go to St Pancras also if you are passionate about art. The station is host of several public displays including the bronze statue "The Meeting Place" designed by Paul Day and the statue of Sir John Betjeman.
When booking a Gatwick to St Pancras Station transfer with 247 Gatwick Airport Transfer you should expect some benefits including free meet & greet service, free waiting time and free Wi-Fi. If you are travelling in a group, you can always select from one of our larger vehicles: MPV or 8 Seater. You can also enable a wheelchair accessible vehicle or an electrical car if you desire. You should know that our staff is very professional and you can always reach our customer support team, we are available 24/7. All you have to do is book your journey and we will take care of the rest.