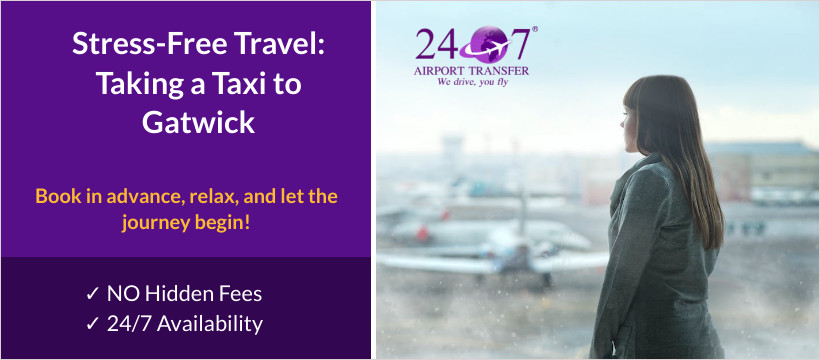 Planning a journey from London to Gatwick Airport? Whether you're a traveller leaving the bustling city for a vacation or a local heading out on a business trip, choosing the right mode of transportation can make a world of difference. One of the most convenient options is to take a taxi to Gatwick. In this comprehensive guide, we'll cover all your questions and concerns, ensuring your journey starts and ends smoothly.
Why Choose a Taxi to Gatwick?
When it comes to reaching Gatwick Airport, a taxi stands out as a comfortable and hassle-free choice. Here's why:
Convenience: Taxis offer door-to-door service, saving you from the hassle of navigating public transport with luggage.
Time-Efficiency: Taxis provide a direct route to the airport, minimizing travel time and potential delays.
24/7 Availability: Regardless of your departure time, taxis are available around the clock, accommodating early morning and late-night flights.
Frequently Asked Questions:
1. How Do I Book a Taxi to Gatwick? Booking a taxi is simple. You can call a local taxi company or use a ride-hailing app. Online platforms often allow you to pre-book, ensuring your ride is ready when you need it.
2. How Much Does a Taxi to Gatwick Cost? The cost varies based on factors like distance, time of day, and vehicle type. On average, a taxi ride from central London to Gatwick Airport can cost around £50 to £80. It's recommended to check with the taxi company for a precise quote.
3. Can I Book a Taxi for a larger group? Absolutely! Many taxi companies offer vehicles of different sizes to accommodate groups of various sizes. It's advisable to mention the number of passengers and luggage when booking.
4. Are Taxis Wheelchairs Accessible? Yes, many taxi providers offer wheelchair-accessible vehicles. When booking, make sure to request an accessible taxi if needed.
5. Is It Necessary to Tip the Taxi Driver? Tipping is a common practice in London. While not mandatory, it's customary to tip around 10-15% of the fare as a token of appreciation for good service.
6. How Far in Advance Should I Book? Booking in advance is recommended, especially during peak travel seasons. This ensures you secure a taxi and can avoid last-minute inconveniences.
7. What's the Travel Time to Gatwick? The travel time varies depending on the starting point, traffic conditions, and the time of day. On average, it takes about 1 to 1.5 hours from central London to Gatwick Airport by taxi.
8. How Can I Ensure Punctuality for an Early Flight? When booking your airport transfer, inform the driver of your flight time. Reliable taxi services monitor flight schedules and adjust pick-up times accordingly to ensure you reach the airport on time.
9. Are There Child Seats Available? Yes, many private hire companies offer child seats upon request. Make sure to mention the age of your child and your preference for a child seat when booking.
10. Can I Change or Cancel My Booking? Most taxi companies have flexible booking policies. However, it's advisable to review the terms and conditions of the company you choose before making a booking.
Choosing a taxi to Gatwick offers a seamless and stress-free travel experience. With its convenience, reliability, and door-to-door service, you can embark on your journey with peace of mind. Whether you're a traveller leaving London or a local embarking on a new adventure, a taxi ride to Gatwick sets the tone for a positive travel experience.
Book in advance, relax, and let the journey begin!