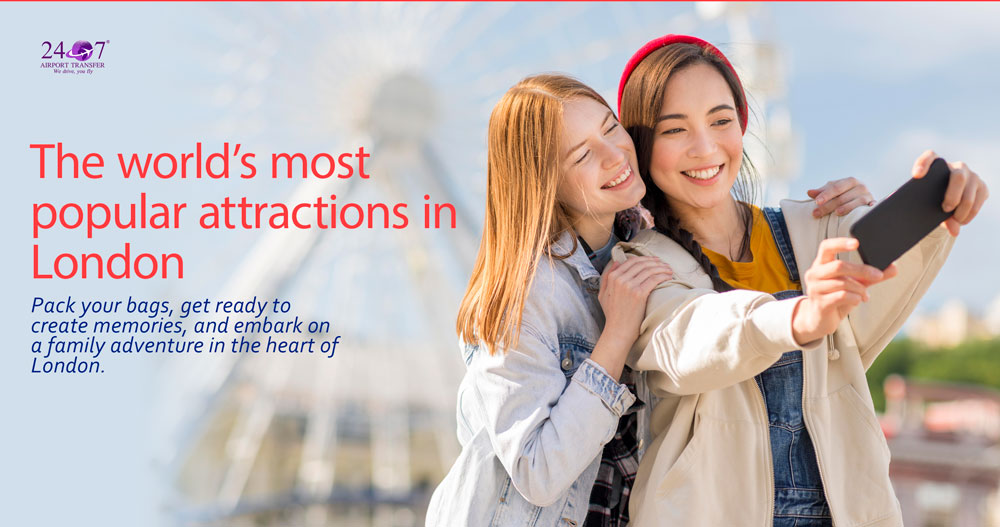 London is a city that offers something for everyone, including families. If you're planning a trip to London with your family and wondering what to do, here are some ideas that will surely keep your kids entertained and create unforgettable memories.
1. Explore the Tower of London: Uncover History and Spark Imagination
Take a tour of the Tower of London, an iconic and historic castle that is a must-see for any visitor. Let your kids immerse themselves in the castle's rich history as they explore its many rooms and marvel at the Crown Jewels. This captivating experience will ignite their imaginations and transport them to another time.
2. London Zoo: Get Up Close and Personal with Wildlife
Visit the renowned London Zoo, home to over 750 species of animals, for an unforgettable wildlife adventure. Watch your kids' faces light up as they come face to face with fascinating creatures from around the world. This interactive and educational experience will inspire a love for nature and conservation.
3. Science Museum: Ignite Curiosity and Explore the Wonders of Science
Delve into the world of science and technology at the Science Museum. With its range of interactive exhibits, your kids can discover everything from dinosaurs to space travel. Spark their curiosity, engage their minds, and watch as they learn and have fun in this hands-on learning environment.
4. London Eye: Soar Above the City and Capture Unforgettable Views
Take a ride on the London Eye, the iconic Ferris wheel located on the South Bank of the River Thames. Get a bird's-eye view of the city and create lasting memories as your family enjoys stunning panoramic vistas. This exhilarating experience is a great way to get an overview of London's famous landmarks.
5. British Museum: Journey Through Time and Cultures
Embark on a journey through history and explore the vast collection of art and artifacts at the British Museum. From mummies to the Rosetta Stone and the Elgin Marbles, your kids will be fascinated by the wonders on display. Immerse them in different cultures and expand their knowledge of the world.
6. Natural History Museum: Discover the Wonders of Nature
Uncover the secrets of the natural world at the Natural History Museum. Let your kids come face to face with life-sized dinosaur replicas, explore captivating animal exhibitions, and learn about our planet's biodiversity. This immersive experience will leave them in awe of the wonders of nature.
7. Tower Bridge: Walk Across History and Marvel at Breathtaking Views
Cross the iconic Tower Bridge and witness stunning views of the city. Explore its walkways and learn about the bridge's engineering marvels. This landmark provides a perfect opportunity for your family to capture breathtaking photos and appreciate the history that surrounds it.
8. V&A Museum: Fuel Creativity and Appreciation for Art and Design
Fuel your children's creativity and appreciation for art, design, and history at the V&A Museum. With exhibits ranging from fashion to furniture, this museum offers a diverse and inspiring experience. Let their imaginations soar as they explore the innovative and thought-provoking displays.
9. Thames River Cruise: See London from a Different Perspective
Embark on a boat ride along the Thames River and discover London from a unique perspective. Enjoy the scenic views of the city's famous landmarks as you cruise along the historic river. This leisurely experience will captivate your family and provide a fresh and exciting way to explore the city.
10. London Dungeon: Brave the Dark Side of London's History
For older children and teenagers seeking an adrenaline rush, the London Dungeon is a must-visit. Step into a horror-themed attraction that brings London's dark history to life. With immersive shows, rides, and interactive storytelling, this experience will leave them thrilled and entertained.
In addition to these exciting attractions, London offers numerous other family-friendly activities. Explore the city's beautiful parks, wander through vibrant markets, or cheer on your favorite teams at sporting events. No matter what you choose to do, London promises a vibrant and exciting experience for the whole family.
So pack your bags, get ready to create memories, and embark on a family adventure in the heart of London.