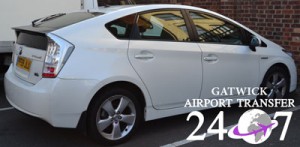 Gatwick to Waterloo Station Transfer
– One of our main routes used by various tourists and Londoners is the Gatwick to Waterloo station transfer service. If your flight is landing in Gatwick London surely you know the issues you are about to face with the transportation. This is why 247 Gatwick Airport Transfer is here to help you with great minicab services provided to you and with transfers to any location in London.Waterloo station is one of the 13 major stations in London, and it is the 15th busiest terminal for passengers in all Europe, with over 94 million passengers transiting it in one year.
Waterloo is a major terminal for services to South West London and also Surrey, Dorset, Hampshire and partially Berkshire. Here you can find train connections to major destinations such us: Exeter, Southampton, Winchester, Portsmouth, Guildford, Wimbledon, Epson or Basingstoke. Nowadays the stations offers only suburban and local transportation, the international train's terminal being transferred to St Pancras in 2007.
The main transportation options provided by Waterloo station are the rail, underground and bus connections. Being a major tube station the location offers connections with Waterloo line and City line. You will find here more than 130 ticket gates. If you wish to reach the rail station you will have to cross the high-lever walkway. The bus stop offers connections to more than 20 lines a day and 6 night buses. The station is opened from Monday to Friday from 4.30 am until 1 am, Saturday from 4.30 am until 1.45am and Sunday from 5.30am until 1 am. If you have any inquiries regarding the station schedule, routes or access you can call the following number 0357 114 141.
If you are waiting for your connection or if you just want to relax you can choose from a variety of shops, outlets or food&drink locations based in Waterloo. Some of which are: Boots, Accessorize, WHSmith, Costa, McDonalds, Upper Crust, Starbucks or Bagel Factory.  Among other general facilities provided by the Waterloo station we mention: BTP station, lost goods, exchange offices, Wi-Fi, leave luggage or car hire.
Transfer Waterloo to/from Gtawick Airport
If you wish to get a transfer from Gatwick to Waterloo station transfer you can definitely count on 247 Gatwick Airport Transfer. The price for a transfer service starts from 60GBP for a normal saloon car or 90GBP for an 8 seater one. The journey will take around 1h and 13 minutes and you will cover approximately 28 miles.
Other means of transportation are the rail and bus. You will have to take the Southern line from Gatwick to the Clapham Junction and from there change to Waterloo. The journey will take around 30 minutes. Another option is the train Gatwick Express that will get you to Victoria Bus Station and from there take the line 211 or 507.
We recommend the Gatwick to Waterloo station transfer service because is the most comfortable of the options. After a long flight you surely don't need an exhausting ride with the tube or bus, especially in the rush hours. On top of this your luggage is easily handled and all you have to do is sit back and enjoy your time, using our free Wi-Fi option.