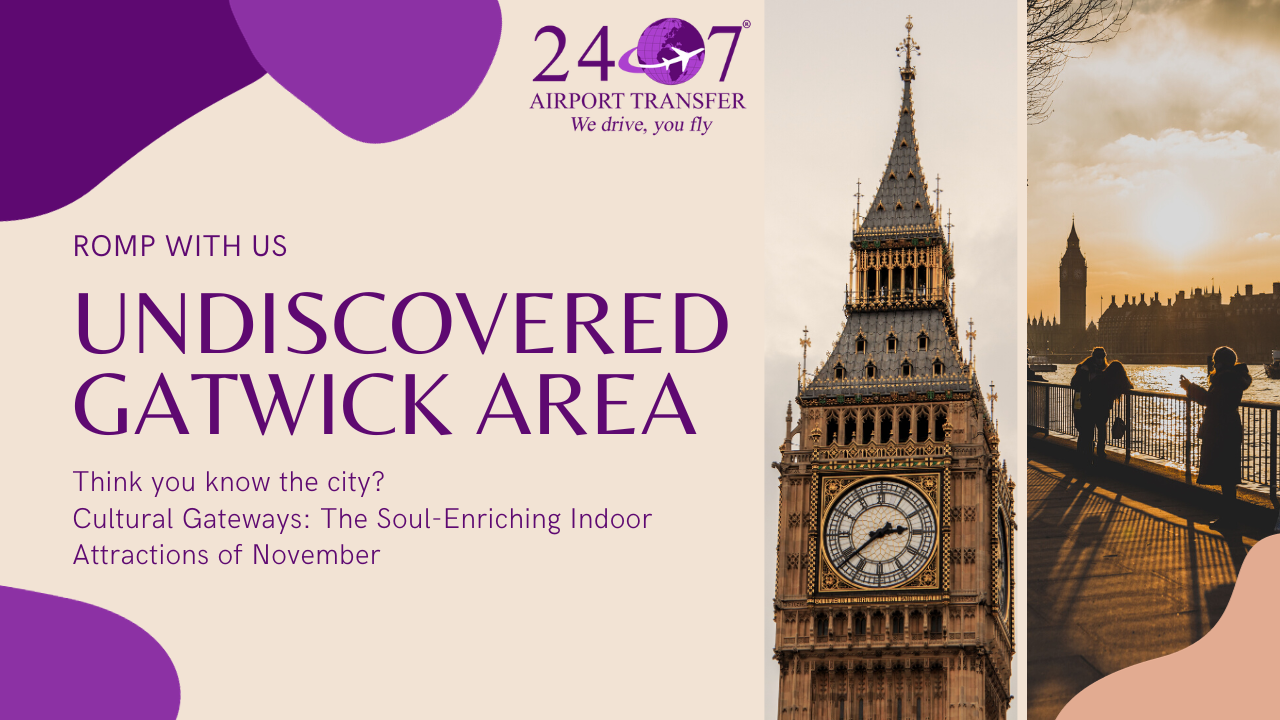 As the crisp air of November sweeps through, the charm of indoor attractions beckons travellers and locals alike. Nestled around Gatwick, a world of cultural delights awaits, offering respite from the autumnal chill. Let's embark on a journey to discover the enriching experiences these venues offer, easily accessible with the comfort and convenience of our Airport Transfer Services.
November's Cultural Mosaic: A Tapestry of Indoor Wonders Near Gatwick
November's palette may be painted in muted tones, but the cultural tapestry near Gatwick is anything but dull. The area boasts a rich array of indoor venues, from historical exhibits that traverse time to a contemporary theatre that pushes boundaries. These cultural hubs are not just places to visit; they are sanctuaries of warmth and inspiration, where the season's bleakness is replaced by the vibrancy of art and history.
Skyward Stories: The Gatwick Aviation Museum Experience
The Gatwick Aviation Museum, a mere 7-minute drive from Gatwick Airport, showcases a prized collection of British aviation history. Visitors can marvel at aircraft that have shaped the skies, all within the cosy confines of the museum – perfect for a November day. Travellers can book a ride with 247 Gatwick Airport Transfer for a seamless trip to this historical haven.
Pages of Pleasure: The Heartwarming Horley Bookshop
Nestled in the heart of the community, Horley Bookshop offers a quaint escape for those who find solace in the pages of a book. A short ride from the airport, this local bookstore hosts a variety of literary events throughout November, making it a perfect stop before or after a flight. Our minicab service can ensure you have the time to browse and enjoy without the rush.
Market Marvels: Conveniently Close to Gatwick
For a truly local shopping experience, the County Mall Shopping Centre's weekly markets are a treasure trove of handcrafted goods and local produce. Just a quick drive from Gatwick, visitors can immerse themselves in the vibrant atmosphere of the market, with the convenience of our spacious minicabs to carry all their unique finds.
Navigate November's Indoor Marvels with 247 Gatwick Airport Transfer
The indoor attractions near Gatwick this November offer more than shelter from the elements; they provide gateways to experiences that enrich the soul. These venues promise to fill your days with culture and your evenings with entertainment, all within a stone's throw from Gatwick.
With us, your journey to these cultural havens is part of the experience—safe, punctual, and tailored to your schedule. Let us escort you to the doorstep of November's finest attractions, where warm memories are waiting to be made.
Embark on your cultural exploration with 247 Gatwick Airport Transfer. Book your journey today and let us be your guide to the indoor marvels of November.